About Us
Aggie Pride is the LGBTQ and Ally Former Student Network of Texas A&M University. If you are a former student, current student, faculty, staff, or part of the Aggie Family, and want to be supportive of the LGBTQ+ community at Texas A&M (plus connect and network with LGBTQ+ Aggies in other cities), then please join Aggie Pride and stay connected.
Join the Aggie Pride list to learn about upcoming events and important news: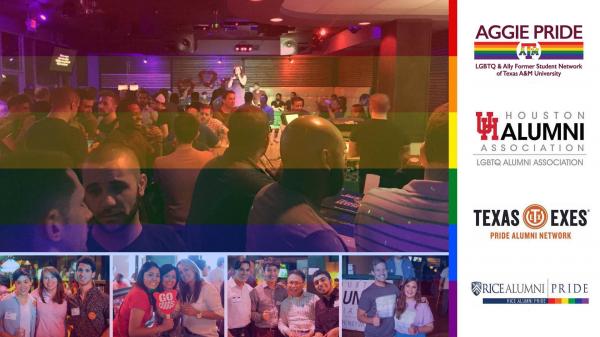 June 21, 2019
Guava Lamp
That's right -- it's the 6th Annual Intercollegiate Pride Mixer on Fri, June 21, 6-9pm, at Guava Lamp! Join us and let's kick off Houston Pride weekend together! There will be food, great drink specials, and the company of fellow LGBTQ+ alumni who are ready to mix and mingle! Wear your school colors, so others from your school can find you. Big thanks to Woody and the staff at Guava Lamp for being our awesome venue sponsor! Guava Lamp is providing a taco bar. Free food for all attendees! Plus, they will have drink specials -- $5 Absolut martinis, $5 Bulleit Rye old fashioneds, and $4 Texas craft beers (Austin Ciders, Karbach and Eureka Springs beers).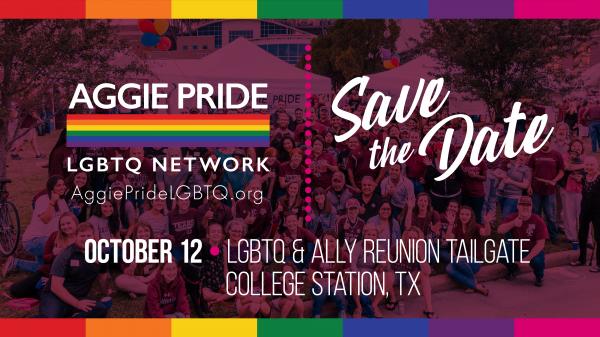 October 12, 2019
Texas A&M University
Come join us for the annual LGBTQ+ reunion and tailgate on campus!! Invite all your friends! Everyone is welcome - former students, current students, faculty, staff, families, community members and more! Former students come visit Aggieland for a fun, fabulous day of food, drinks, and camaraderie! More info to come. Actual time is TBA.
Aggie Pride Membership - Monthly Donation
Please join as a paid member to support Aggie Pride's programs and the resources we provide for LGBTQ+ Aggies. Without your support, Aggie Pride would not exist and we would not be able to support LGBTQ+ Aggies both in Aggieland and around the world. One hundred percent of all donations to Aggie Pride go to support LGBTQ+ Aggies.
Aggie Pride 2nd Annual LGBTQ & Ally Reunion and Tailgate
Sign Up
Stay connected and support the Aggie Family! This network is composed of former students, current students, faculty, staff and friends of Texas A&M University working together to provide support and a welcoming environment for LGBTQ students, faculty and staff at Texas A&M.
Leadership
David Foucher
Publisher and CEO Edge Media Network and Pride Lab
David Foucher is the Publisher and CEO o Edge Publications and Pride Labs0 the largest digital LGBT media company in the world. He is a member of the National Lesbian and Gay Journalist Association, and is accredited with the Online Society of Film Critics. Mr. Foucher brings over 20 years of experience to a rapidly changing industry, and has held senior management positions at MIT, Technology Review, IX Interactive and Boston Medical Center. David lives with his daughter in Dedham, MA.