"Fast & Furious 6" Blu-ray/DVD Combo Pack!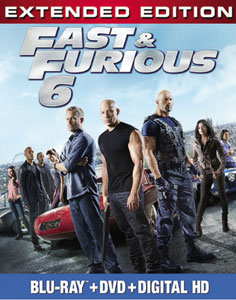 The latest blistering addition to one of Hollywood's greatest action-movie franchises, Fast & Furious 6, roars into the holiday season as the unbeatable choice for "Highest-Octane action yet!" (Meriah Doty, Yahoo!) A transcontinental caper that reunites fan-favorite stars from the blockbuster franchise's earlier films, Fast & Furious 6 earned almost $800 million at the box office worldwide. Fast & Furious 6 comes to Blu-ray™ Combo Pack including Blu-ray™, DVD & Digital HD with UltraViolet™ and On Demand on December 10, 2013, from Universal Studios Home Entertainment. The film will also be available on Digital November 19, 2013. Found exclusively only on the Blu-ray™ is a special Extended version with even more intense action, as well as over an hour of exclusive behind-the-scenes bonus features, only available for a limited time in collectible Steel Book packaging

Fast veterans Vin Diesel (Riddick, xXx), Paul Walker (Takers, Flags of Our Fathers) and Dwayne Johnson (Pain and Gain, G.I. Joe: Retaliation) lead an all-star cast that includes Jordana Brewster (The Texas Chainsaw Massacre: The Beginning, "Dallas"), Tyrese Gibson (Transformers, Death Race), Chris "Ludacris" Bridges (Crash, RocknRolla), Sung Kang (Ninja Assassin, Live Free or Die Hard), John Ortiz (Silver Linings Playbook, American Gangster), Gal Gadot (Night and Day, Date Night), Elsa Pataky (All Things to All Men, The Wine of Summer) and, for the first time since 2009's Fast and Furious, Michelle Rodriguez (Resident Evil, Turbo), plus series newcomers Luke Evans (Immortals, The Three Musketeers) and MMA-champion Gina Carano (Haywire, Blood and Bone). Director Justin Lin and screenwriter Chris Morgan team up for their fourth Fast & Furious collaboration, hailed "Fun, entertaining and sexy" by Jake Hamilton of FOX-TV, and packed with "bigger fights, badder villains, bolder chases," according to Elizabeth Weitsman of The NY Daily News. Call **Fast 6 (**3278) from your mobile phone to get a special message from Vin Diesel plus an exclusive behind-the-scenes clip.

www.thefastandthefurious.com

Enter to win!

Thanks for visiting EDGE!
Click here to learn about the 365 Gifts Promotion »