"Homefront" Blu-ray/DVD Combo Pack!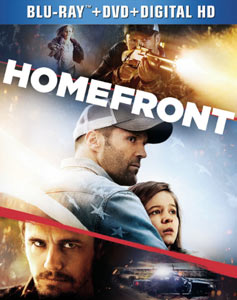 Jason Statham (The Transporter franchise, The Mechanic), James Franco (127 Hours, Oz the Great and Powerful), Winona Ryder (Star Trek, Black Swan) and Kate Bosworth (Superman Returns, Blue Crush) star in Homefront, a gripping story about how far one man will go to protect his family. Homefront arrives on Blu-rayTM Combo Pack including Blu-rayTM, DVD, & DIGITAL HD with UltraVioletTM and On Demand on March 11, 2014, from Universal Studios Home Entertainment. The film will also be available on DIGITAL HD two weeks early on February 25, 2014.

Widowed ex-DEA agent Phil Broker (Statham) retires to a quiet Southern town with his 10-year-old daughter and discovers that the idyllic setting is riddled with drugs and violence. When a riveting chain of events forces him to face off with psychotic local drug lord Gator Bodine (Franco), Broker must retaliate using the fearsome skills he hoped to keep in his past. From screenwriter Sylvester Stallone, Homefront is "an absolute blast! A thrill ride from start to finish!" (Chris Parente, Fox-TV).

http://www.openroadfilms.com/#homefront

Enter to win!

Thanks for visiting EDGE!
Click here to learn about the 365 Gifts Promotion »